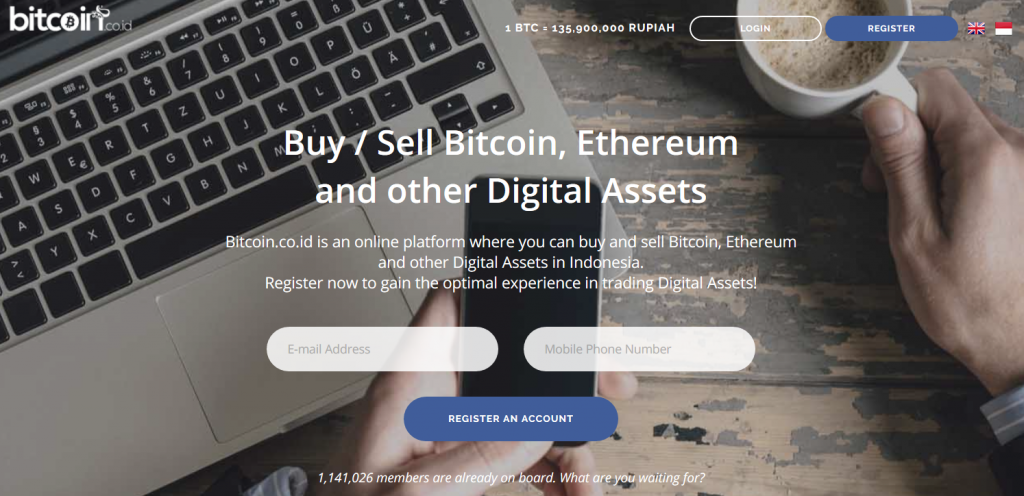 Today there is a wide variety of exchange sites. Anyway, the majority of them is targeting any but not the Indonesian market. Thus, Bitcoin.Co.Id is the perfect place for trading digital assets with IDR (Indonesian Rupiah).
This is an Indonesian cryptocurrency exchange with head office located on Bali and worldwide services. It was launched in 2013 and it accepts deposits in IDR and BTC, offers low fees, provides high security and reliability. In our review we're going to reveal all pro and contras of the online broker.
Are you in? To ease everything, we gathered the main advantages and disadvantages in our table below:
| Pros | Cons |
| --- | --- |
| Easy registration process | |
| No fees for trading in cryptocoins | High fees for transfers in other national currencies |
| No limits on deposits (crypto and fiat) | Doesn't accept credit/debit cards as well as e-wallets like PayPal |
| Instant purchasing available (BTC, IDR) | There are high withdrawal fees (crypto and fiat) |
| Low minimums for transactions (i.e. IDR1000 (USD 0.07) and 0.001 BTC) | There is 0.3% charge for trading between altcoins and fiat |
Available Currency
The first thing to take to notice is that you can use only Indonesian Rupiah. No other fiat currencies are available. So, you will find only pairs for IDR. Thus, you can buy such altcoins as BTC, BCH, BTG, ETH, ETC, IGNIS, LTC, NXT, WAVES, XLM (Stellar Lumens), XPR (Ripple), XZC (Zcoin) with the national money.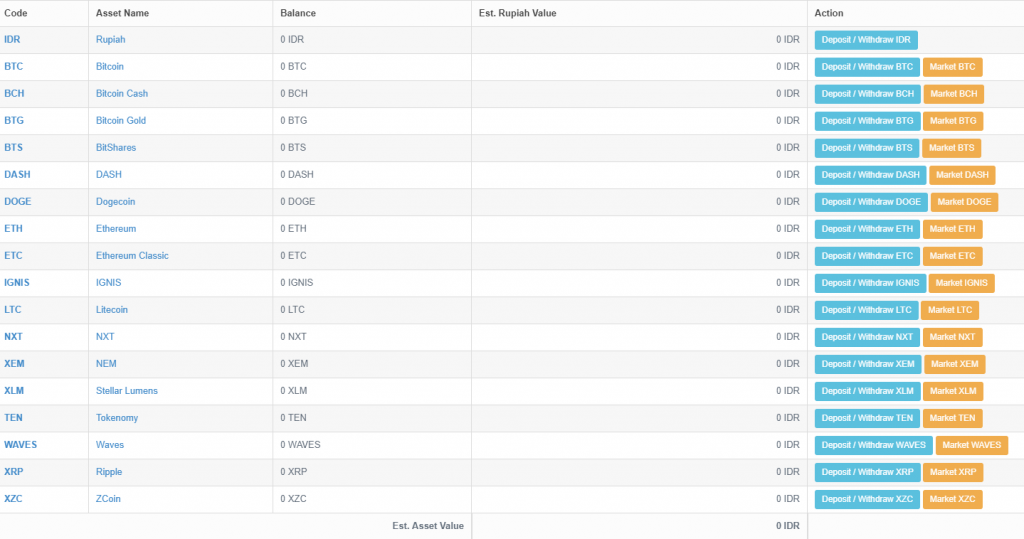 Also, Bitcoin.co.id offers you various pairs for BTC with other digital assets as BTS (BitShares), DASH, DOGE (Dogecoin), ETH, LTC, NXT, XLM, XEM (NEM), XRP.
Payment Methods
The exchange allows you deposit in Indonesian Rupiah and Bitcoins only. The other crucial things to reveal are the payment methods available and charges applied to each transaction. So with that, if we're about IDR deposits, it's a pity, but here you won't find any debit/credit cards and PayPal is also out of the list.

Anyway, you are free to purchase via wire bank transfers (for residence of Indonesia), vouchers, and some e-wallets, etc. There are no fees for Indonesian customers who uses the fiat; the charge will be 3% of each input for all overseas members when using EasyPay, for example.
When it comes to BTC, it's really the hassle-free deposits when compared with the fiat replenishment. In this case you just need to scan QR-code or generate an address and, then, transfer the amount of BTC you wish from the personal wallet. No charge is applied.
However, if you are going to withdraw, then get ready to meet some fees for both fiat and crypto transfers. The broker will take charge of 0.0005 BTC (0.02 LTC/5 DOGE/1 BTS/2 XRP/0.1 STR/5 NXT/15 XEM/0.005 DASH) per transaction.
Besides, you can cash-out at least 0.001 BTC, but no more than 1 BTC a day. Also, you'll pay 0.0001 BTC for each SMS verification pin. Of course, you're free to turn off the option, but each and every transaction are to be authorized by you personally.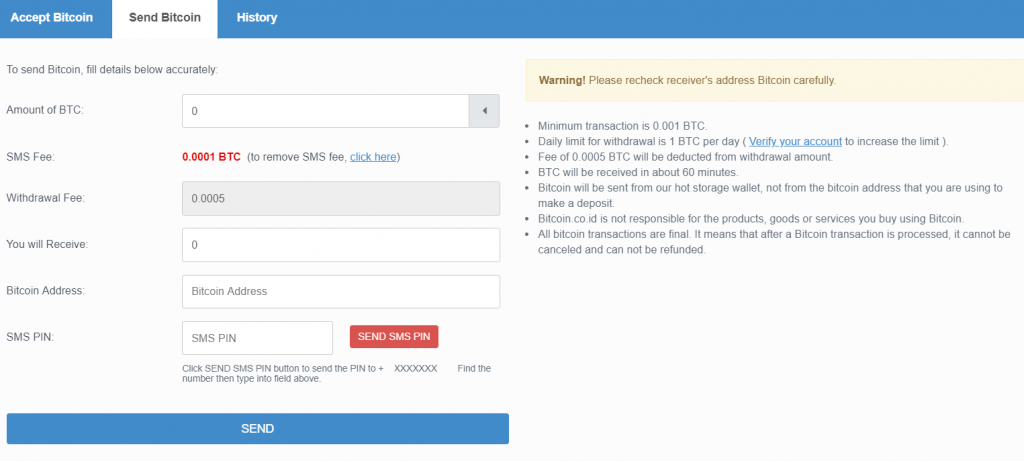 Offline withdrawing will cost you 1% fees. Also, the exchange has no Maker charge and 0.3% Taker fees. In such a way, you will pay for each taking order.
Verify and Secure Your Account
Nothing is possible without account registered. The good news is that the opening process is easy and fast. There 2 (two) types of accounts: regular and VIP. No matter, what type you choose, there are some rules to follow: you are to be 18+; have an identity and personality.
Get ready to provide your personal data like your name, active e-mail as well as fill in your username, password and your 2 phone numbers. Note that each account at Bitcoin.Co.Id is protected by SMS 2FA. That's why, you will get the message with the link to Google Authenticator to confirm your registration.

You can also verify just opened account. Here you will be asked to provide additional info: place and date of birth, nationality, gender, copy or photo of a valid identity card (KTP/Passport no.) and full address.
Feel free to register more than 1 (one) account. For the purpose you need to give another e-mail and create new username, for example. Check if all information is accurate for successful registration and thus trading for altcoins.
How to Trade on Bitcoin.co.id
Bitcoin.co.id offers you 2 (two) ways to trade for Bitcoins. Thus, you can do that instantly or thru the so-called Spot Market. Both variants are available after you log into your account.

Buying
If you want to buy some BTC or its fraction you need to deposit your account first. After that, just click 'Trade Bitcoin'. There you can use the Limit method to buy digital coins on a wanted price. For that you're to enter the amount of IDR you want to use and the desired price to buy btc. Press 'Buy Bitcoin' and confirm the operation in the end. Use the 'Market' to get crypto assets instantly. Here is a charge of 0.3% to pay.
Selling
If you want to sell the crypto, it won't be difficult as well. In case you have some btc on the balance you can just choose 'Trade Bitcoin' on the menu and set the desired price and amount you're going to sell. Otherwise, you need to buy some crypto before the step. 'Market (Instant)' method is also available for the purpose. But the same fee that is 0.3% of your transaction is to be paid.